MICE at Hilton: Various Venues for Your Ultimate Team Getaway
Gone are the days where we're stuck at home having to stare at the screen for hours on end to get thoughts, ideas and executions across.
Inspiring work spaces and locations can spark so much creativity – even the simplest sound of the outdoors or more natural sunlight works wonders. Bringing the team out of the office or their workspace is a great way to heighten motivation and break their monotonous, clockwork routine.
Whether you're looking for a quiet getaway to increase productivity within the team or fun-filled activities to strengthen employee engagement, we've got just the destination for you.
---
Hilton Kuala Lumpur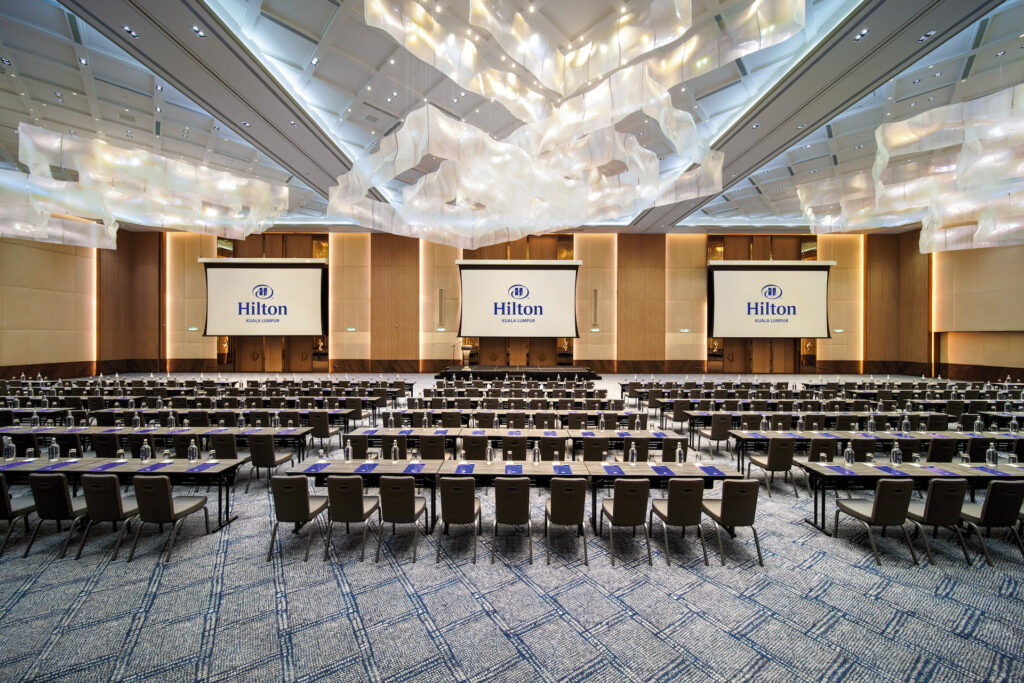 Situated in the heart of the bustling Kuala Lumpur city, its accessibility for travelers and corporate workers is undeniable — the central hub for transportation is less than a 5-minute walk away from Hilton Kuala Lumpur and it is without mention that the hotel offers the biggest smiles and warmest welcomes.
Housing a total of 2,131m² of event space are 15 lavish meeting rooms, a mid-sized Sentral Ballroom, a sophisticated multi-event leveL7even and a magnificent Grand Ballroom that can effortlessly accommodate up to 1,000 attendees.
The star of the extensive refurbishment of the Grand Ballroom is a charming chandelier called The Verve developed by progressive Czech glassmaking and design company LASVIT, globally known for breathtaking custom-made installations together with LTW Singapore Pte Ltd. With its fluid-like energy, the inspired movements of dance and its iridescent hues are a sight to behold.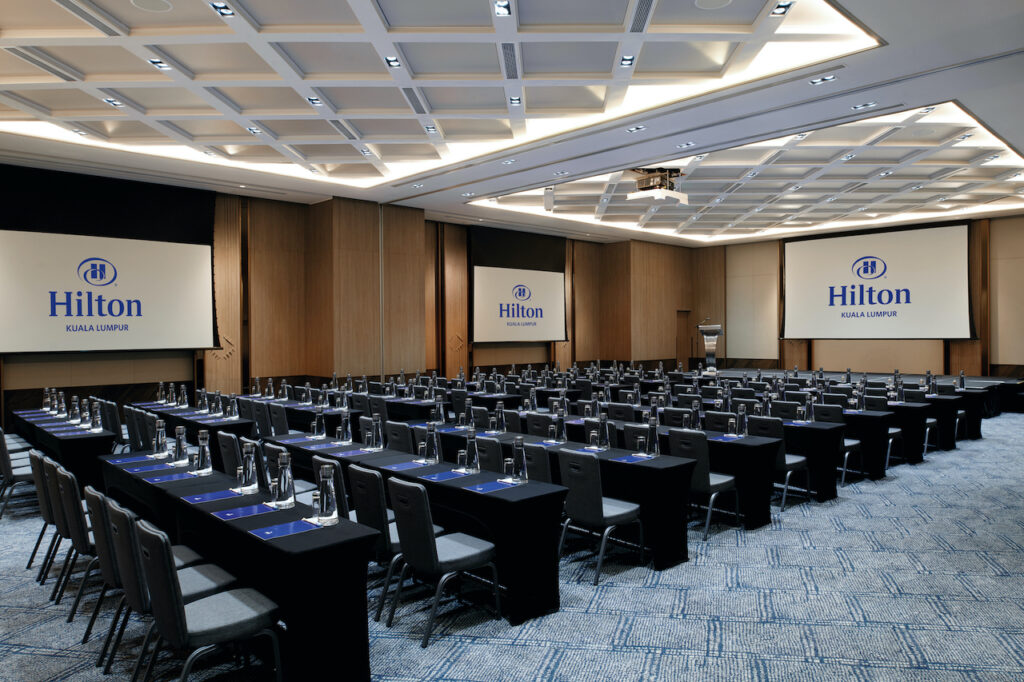 Meeting rooms in the hotel are fully-equipped with everything you may need and more such as Chargifi and Flip, providing attendees with wireless charging and innovative digital flipcharts for seamless brainstorming sessions. We will be more than happy to be of assistance should you have special requirements or requests, offering personalized services to help your MICE run as smoothly as possible.Rest assured that your trip would be more than just corporate meetings. Local and cultural tourist attractions are just a train ride away, taking you to the Central Market Pasar Seni, Chinatown in Petaling Street, award-winning mall Pavilion in Bukit Bintang and many more.
---
DoubleTree by Hilton Damai Laut Resort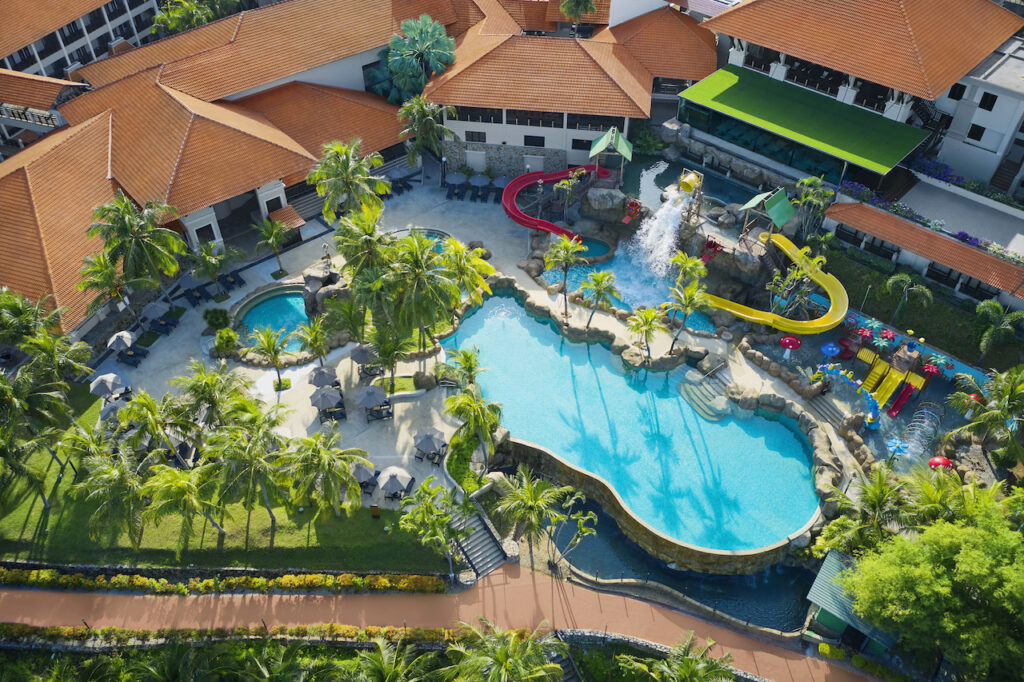 Deemed the ultimate team-building getaway, this contemporary property situated in Perak features a wide range of modern indoor facilities as well as plenty of outdoor activities like ATV excursions, water sports and an 18-hole golf course designed to improve team bonding and employee engagement.
For more corporate settings, the resort features a pillarless ballroom with dedicated LED screens that can accommodate up to 1,000 attendees, six indoor and outdoor meeting spaces, quality catering services and plenty of natural light to lift the rooms.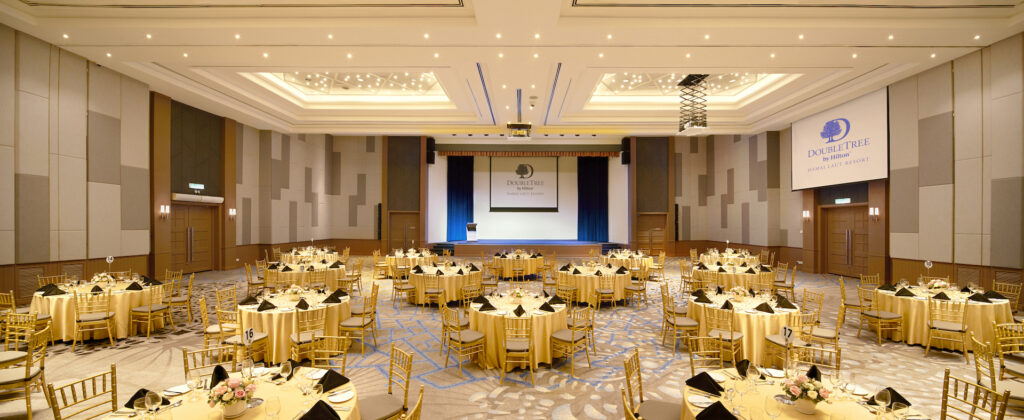 Hilton's commitment towards sustainability is also reflected in the practices and event-planning at DoubleTree by Hilton Damai Laut Resort through the award-winning 'Meet with Purpose' program focusing on three essential pillars — Mindful Eating, Mindful Meeting and Mindful Being. With that, they provide food and beverage experiences that support a healthier lifestyle, incorporating employee wellbeing in meetings to enhance productivity and reducing use of resources and waste production leading to lower carbon footprint.
So if your team is heading towards that same direction and has goals that align with the sustainable practices we carry out, rest assured that you will gain peace of mind by your events' contributions to making a positive impact on top of receiving the highest service quality.
---
DoubleTree by Hilton Johor Bahru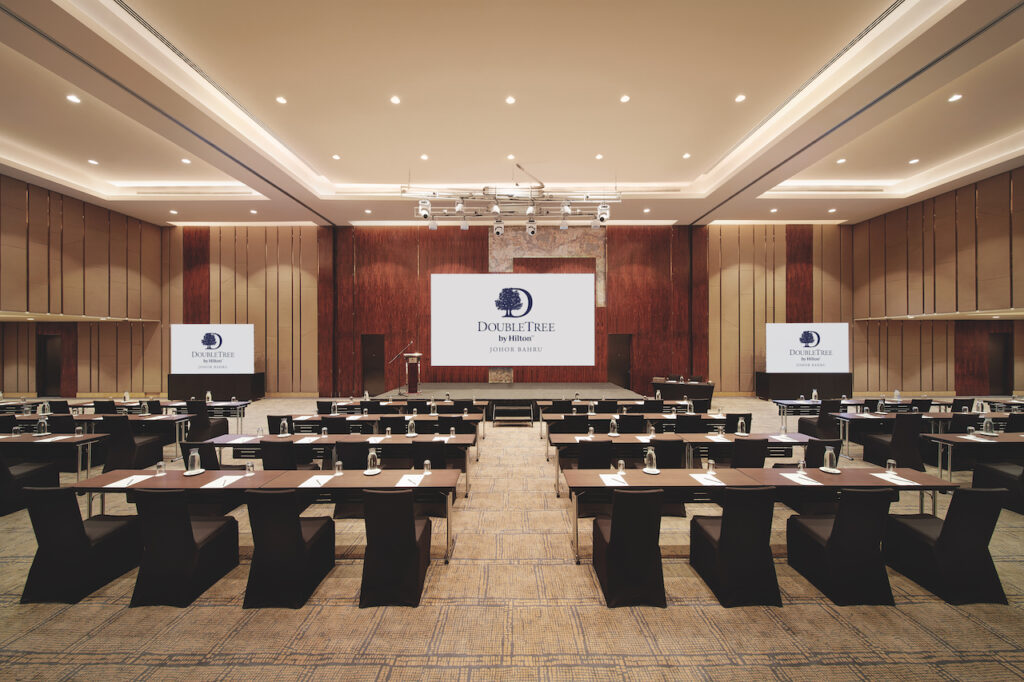 DoubleTree by Hilton Johor Bahru is conveniently located at the heart of the city's Central Business District and is also close to neighboring country Singapore, should delegates choose to drive over instead of taking a flight.
Their newly-relaunched versatile selection of event spaces on the 11th floor call for upscale, full-service offerings for business and leisure guests with the ability to cater to a wide range of MICE no matter the goal. The highlight is the elegantly modern Grand Ballroom spanning 565m² with a high ceiling, effortlessly accommodating up to 650 guests.
More intimate settings can be found at the Junior Ballroom which offers direct access to a beautiful outdoor terrace bathed in natural sunlight, ideal for team building activities or small gatherings that call for humble yet sophisticated touches.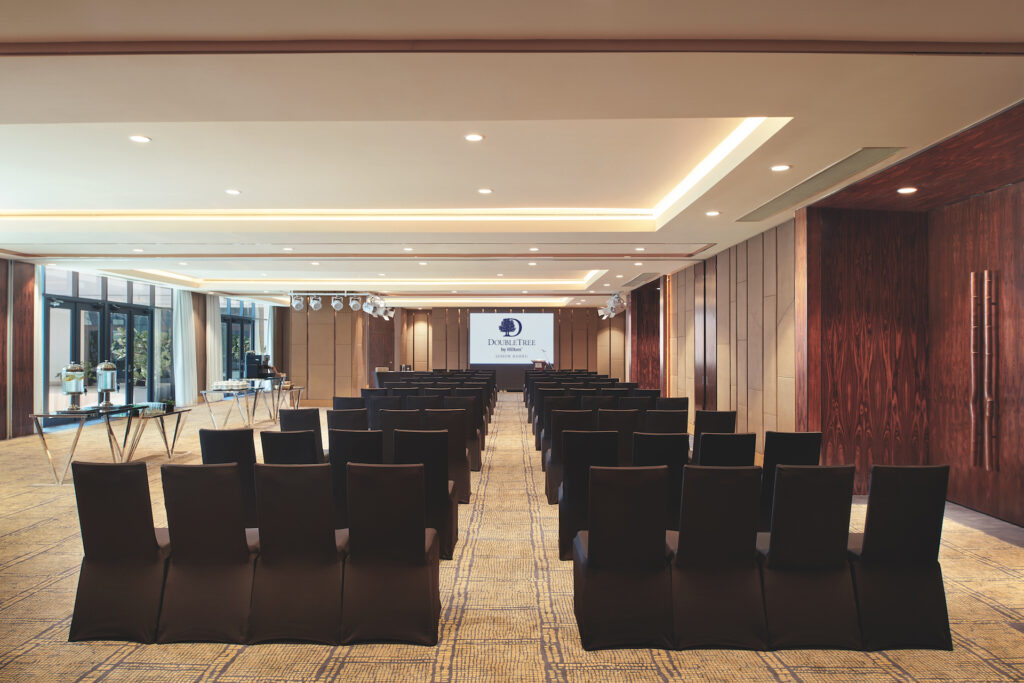 After extensive renovations, the event spaces here are dressed with plush new carpeting, cutting edge audio-visual systems, enhanced lighting installations and stylish furnishing meticulously selected to elevate the overall experience.
Corporate clients will also be able to fulfill their Environmental, Social and Governance (ESG) goals as Hilton's commitment to sustainability is apparent through their Meet with Purpose program. From energy consumption down to the dishes served, each component is thoughtfully designed and curated to minimize carbon footprint.
---
DoubleTree by Hilton Putrajaya Lakeside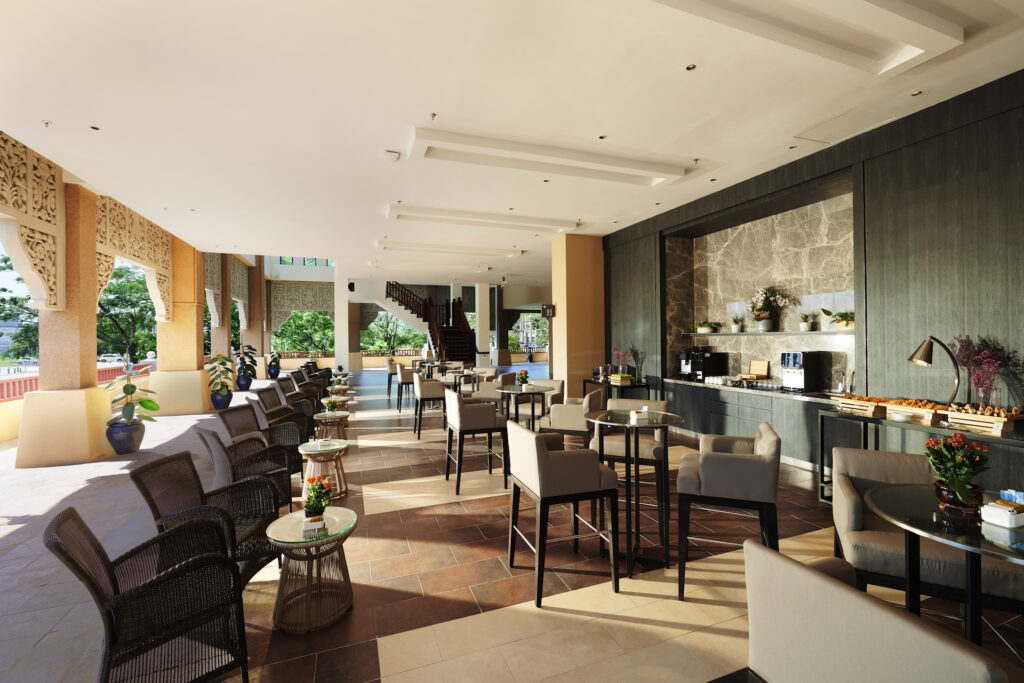 Among one of our most uniquely-designed hotels, DoubleTree by Hilton Putrajaya Lakeside boasts beautiful landscape and architecture that has an amalgamation of European and Islamic influences with elegant breakout areas.
Its location that is neither too near nor far from the city is a perfect place for multi-day conference retreats for both leisure and work, offering a disconnect from the hustle and bustle of Kuala Lumpur.
Housing multiple meeting rooms ideal for hosting MICE, each room is named after a Malaysian lake with the impressive Kenyir Grand Ballroom spanning 510m² featuring an enhanced LED screen and an open-air multifunctional space.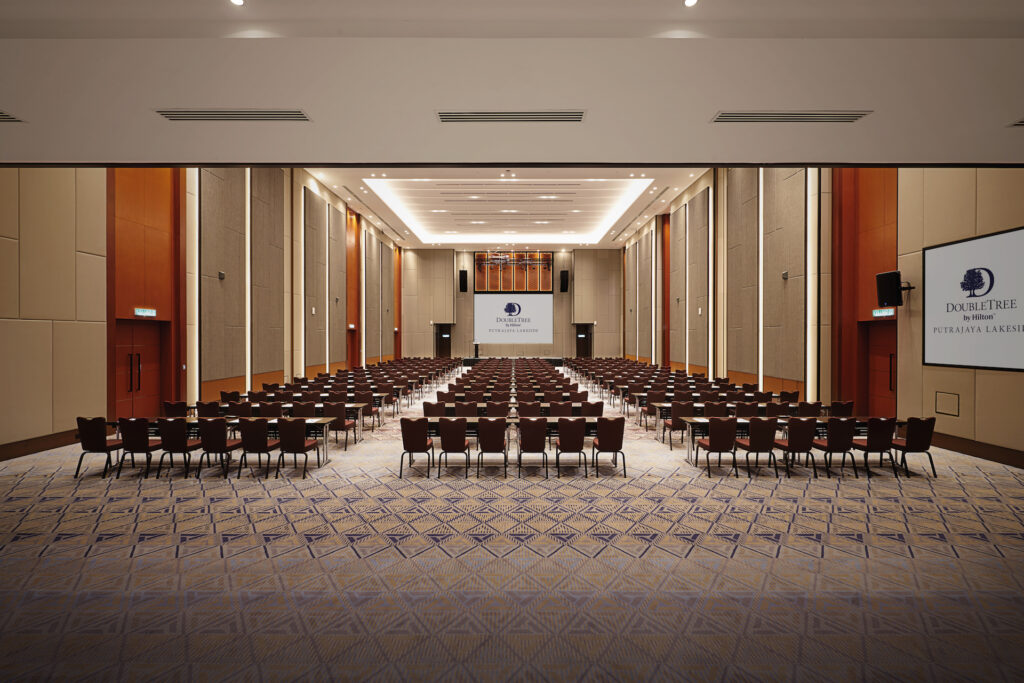 It effortlessly accommodates up to 800 delegates in classroom or theater-style arrangements suitable for team-building activities. An open ambiance at the Temenggor Grand Ballroom offers a ton of natural sunlight and fresh air that would also be a nice space to hold meetings with the team.
For more fun-filled action, the Marina Watersports Center at the Putrajaya lake hosts a variety of activities such as a river cruise and Dragon Boat races that are sure to enhance employee engagement and team spirit.
---
DoubleTree Resort by Hilton Penang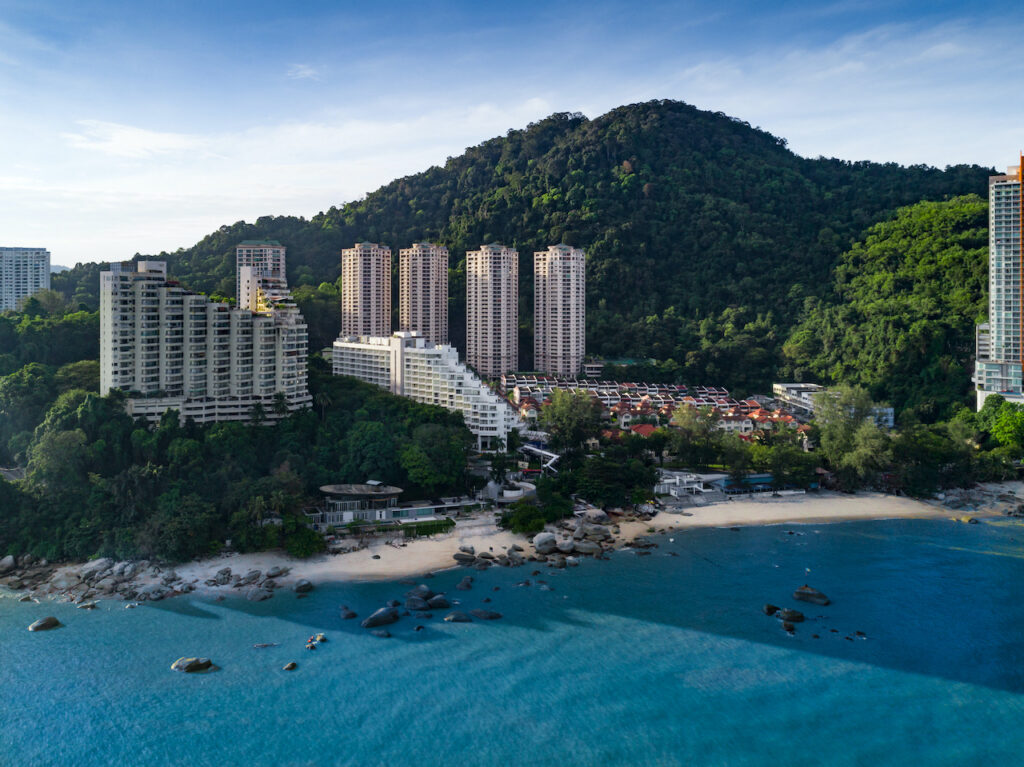 Tucked within the hills and not too far from the beach sits DoubleTree Resort by Hilton Penang, a little peaceful haven for a quieter team getaway.
The hotel offers indoor and outdoor meeting spaces that — other than state-of-the-art audio-visual technology, high-speed internet, video conferencing facilities and more — have exceptional catering services and themed decorations upon request.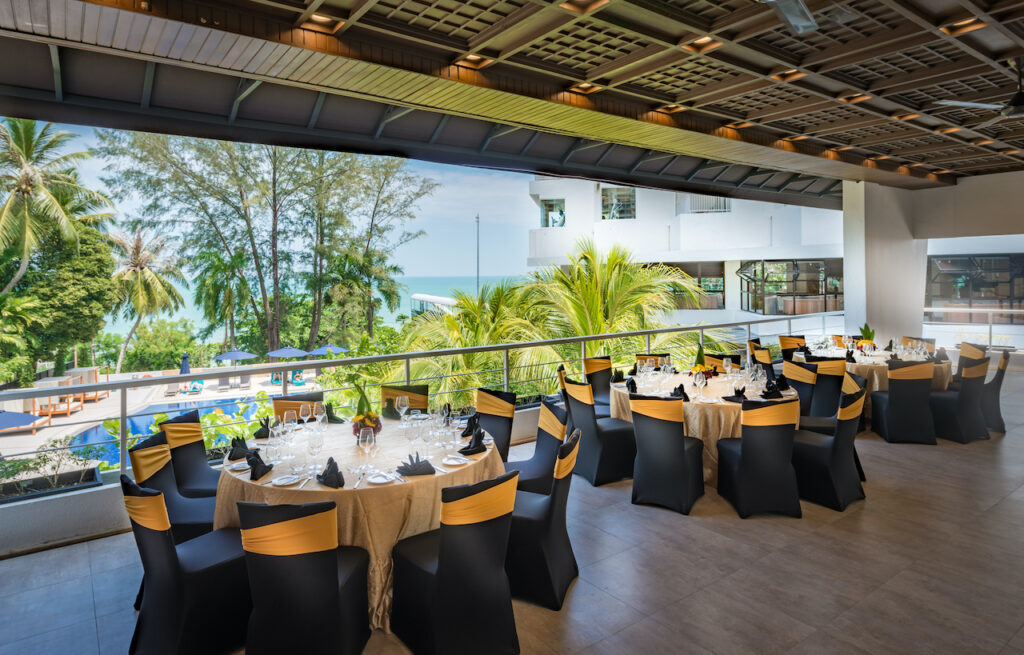 Mindful activities like yoga at Tropical Spice Garden or walks at The Habitat Penang can be arranged for clients and delegates, while more adventurous and thrill-seeking teams can visit the nearby Escape Theme Park that holds the world's longest waterslide at 3,645 feet.
With Hilton's Meet with Purpose program, the carbon footprint of your meetings and events will also be offset by the hotel at no extra cost to you, potentially doubling up your own efforts and helping you reach your ESG goals too.
---
DoubleTree by Hilton Shah Alam i-City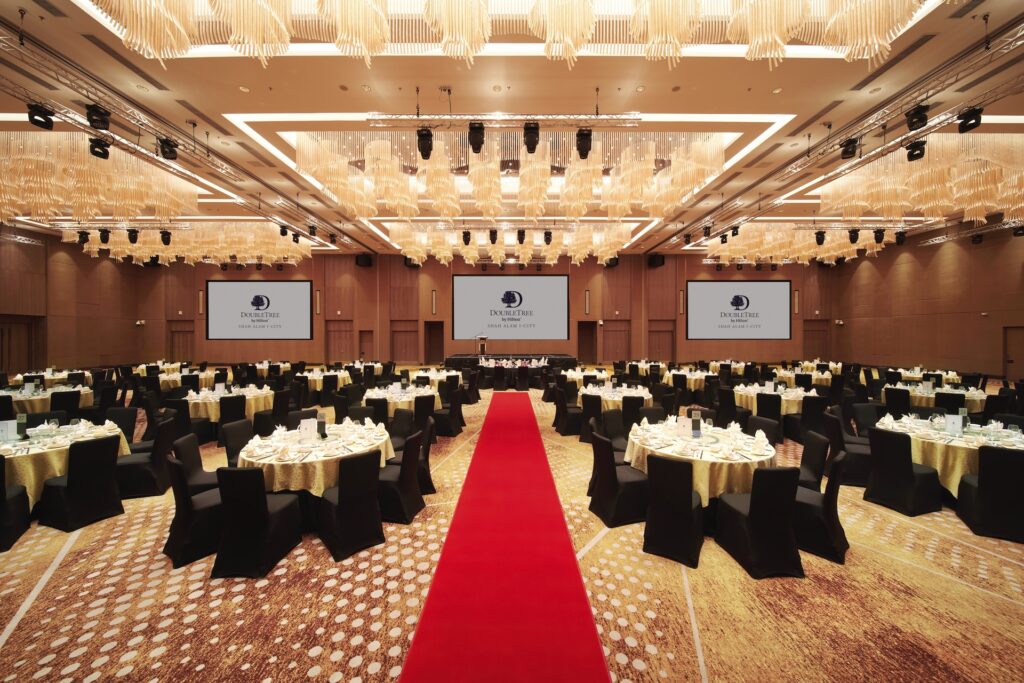 Housing a total of 1,594m² event space, DoubleTree by Hilton Shah Alam i-City emerged as a game-changer in the MICE industry in Malaysia, being easily accessible to Shah Alam's prime manufacturing hubs and major highways.
On top of a pillarless grand ballroom that can accommodate 1,000 guests, the 43-storey skyscraper houses 10 other flexible meeting rooms equipped with upgraded audio-visual technology, high speed internet, quality catering services, bespoke coffee stations that can be customized according to your requirements including a selection of premium coffee and tea as well as pastries and snacks, and finally direct access to the carpark.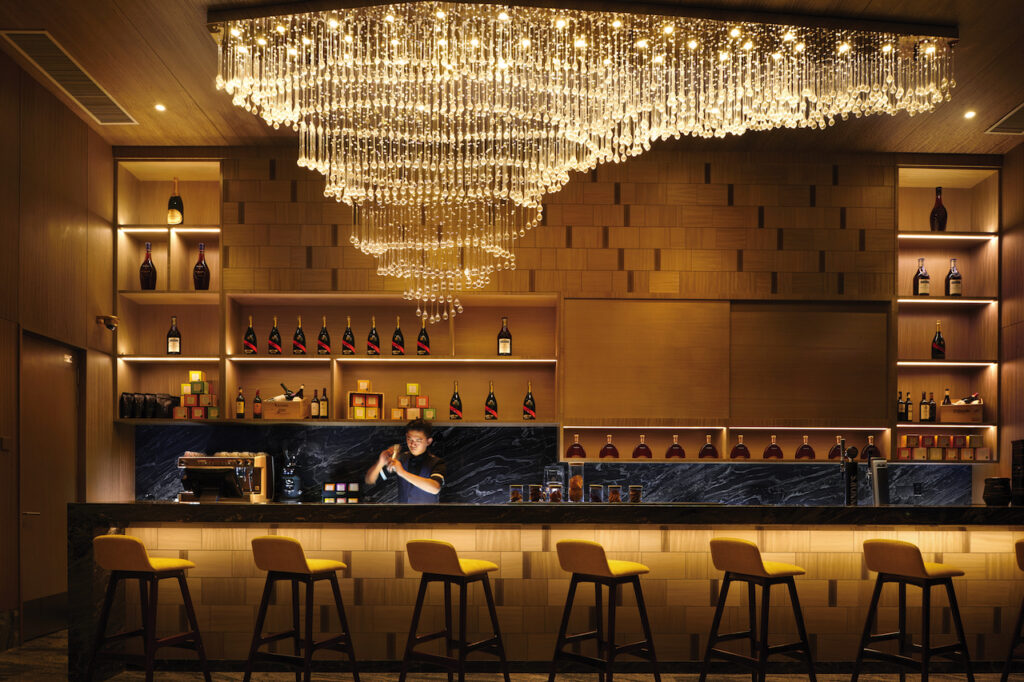 Clients and delegates working on a tight schedule can also choose between any of the hotel's exceptional dining outlets, not needing to venture far for great meals. Stop by Makan Kitchen for authentic local cuisine, Tosca for contemporary Italian specialties or unwind with a comforting cup of coffee and light sandwiches at Axis Lounge.
Those looking for an even more relaxing escape can also visit the haven that is eforea Spa, or sweat it off at the fitness center open 24 hours daily.
---
MICE Wellness at Hilton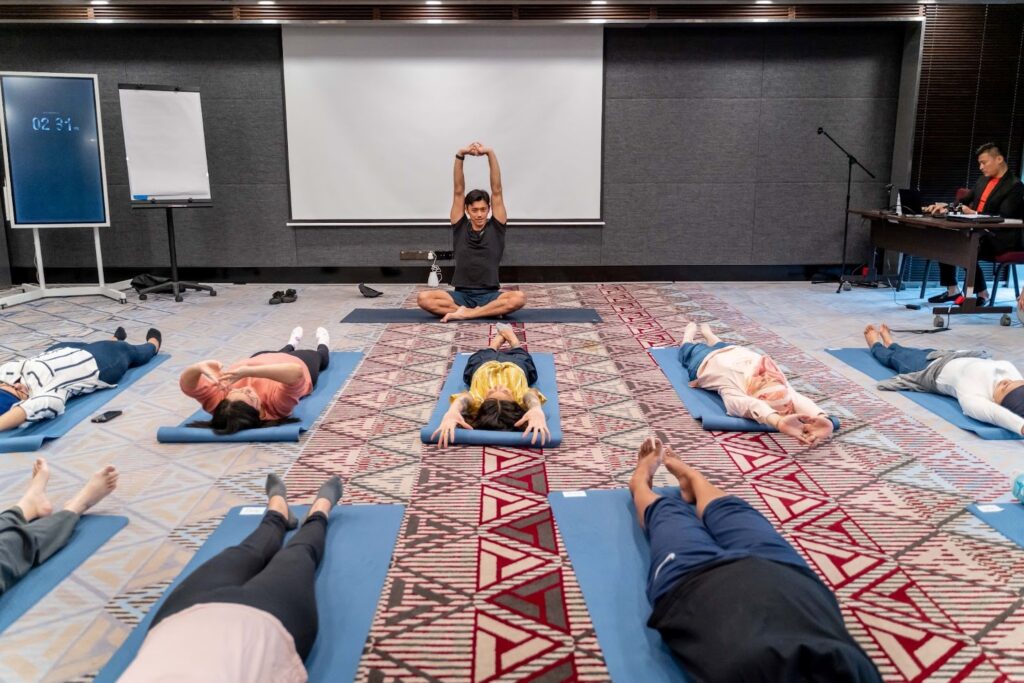 On top of nurturing business success and corporate productivity, all of our hotels place the wellbeing of clients and delegates at the same level of priority.
The transformative Wellness Elements at Hilton properties in Malaysia are customizable and can be designed to seamlessly integrate into your meeting schedules, infusing every gathering with rejuvenation and inspiration that will cultivate mental clarity. Beyond physical activities, our wellness programs include immersive experiences like yoga and meditation, breathwork techniques and transformative sound bath sessions.
Additionally, these wellness components extend to food sustainability with solutions that minimizes waste through portion control, local sourcing, pre-plated salads and central water stations with reusable containers. From nutritious and sustainably sourced food down to breathwork, this holistic approach to MICE will enhance creativity and empower your team in unlocking their potential.
As much as carrying out MICE is important, where they are held and the goals they achieve holds just as much weight. No matter what you aim for within your team, Hilton provides a wide variety of destinations sure to align with your company vision and meet its needs that makes it the perfect choice for your corporate getaway.