Enjoy a carefree, indulgent getaway with free breakfast and more.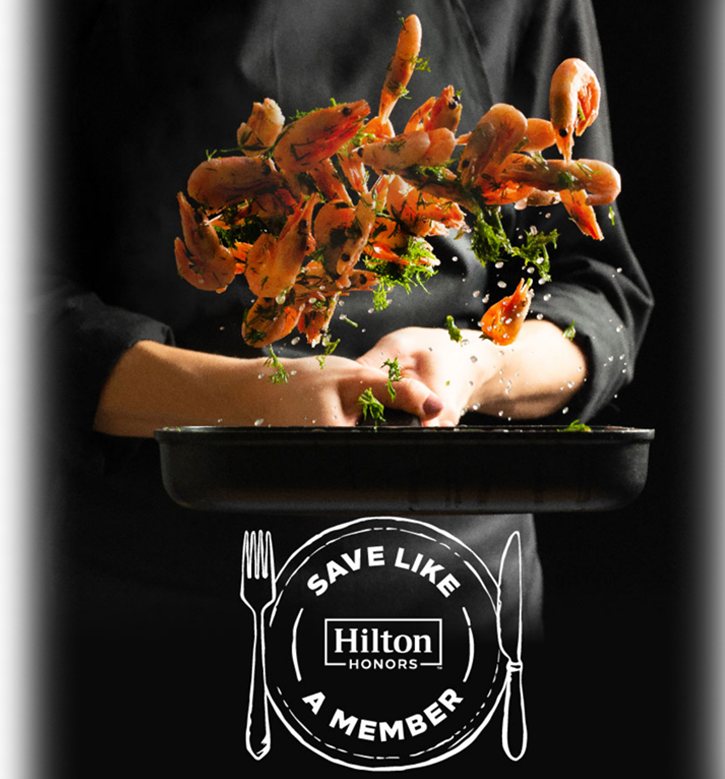 With Hilton Honors, members get to enjoy exclusive discounts on food & drinks across Asia Pacific*. Simply show your membership to one of our team members to enjoy discounts off your bill today.
·Hilton Honors Base & Silver member receive 10% off
·Hilton Honors Gold & Diamond members receive 25% off
Hilton Honors members who are not staying or on ineligible stays can also earn a one-time 500 Hilton Honors Bonus Points with a minimum spend of USD 25 (or equivalent in local currency).
Not a member? Well, what are you waiting for?
Join now to enjoy this offer and more exclusive privileges. As a Hilton Honors member, you always get our lowest price guarantee and earn points every time you book direct and stay or spend the day with us.
Join now, start saving today.

GET THE INSIDE DEALS WHEN YOU DINE LIKE A MEMBER. IT'S FREE.
This 'Like A Member' offer is available only to Hilton Honors Members ordering food and drinks at participating owned and managed restaurants and bars ("Outlets") in hotels and resorts in Asia Pacific. Offer begins from June 01, 2021 to June 30, 2022. This offer is not valid at non Hilton owned or managed outlets. All outlets in Maldives, French Polynesia and outlets within Hampton hotels in China are also excluded from this Offer. See list of non-participating hotels and Outlets here.
Members and Silver Members: 10% off eligible spending
Gold and Diamond Members: 25% off eligible spending
Non-staying members and staying guests on ineligible stays can earn a one-time 500 Hilton Honors Bonus Points with minimum spend of USD 25 (or local currency equivalent). Guests on eligible stays can earn Hilton Honors points on qualified dining spend charged to their room. Member must be present for the entirety of the meal and discount must be processed at the time of bill payment or signing to the guest's room and cannot be applied retrospectively. Offer is not applicable for group dining of more than 10 pax (including the eligible Member). Verification of Hilton Honors membership is required. Offer cannot be combined with other member dining benefits, vouchers, promotions, and/or dining program privileges. Blackout dates and additional restrictions apply. Hilton Honors™ membership, including the earning and redemption of Points is subject to Hilton Honors Terms & Conditions. View Full Terms and Conditions here.